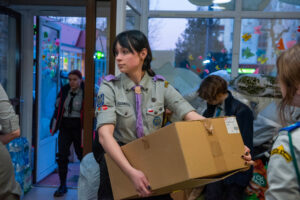 This information is shared for the visibility of the European Regions of WOSM and WAGGGS, it can be used when communicating with all stakeholders. It aims to give visibility to the coordination mechanism and encourage additional support from Member Organisations where possible. 
_____________________________________________________________________________________________
Update of support so far
A short snapshot of the general support or actions ongoing across WOSM & WAGGGS Member Organisations. 
Neighbouring countries – a regular meeting is established, initially by Czechia and will be rotated, to share updates, country reports and facilitate resource gathering and mobilization. 
Regional coordination

– WOSM is coordinating incoming support centrally, then ensures it is distributed accordingly to relevant stakeholders.
Humanitarian Action consultants

– team of three WOSM Humanitarian Action consultants are actively engaging in direct requests from Member Organisations and coordinating different supporting materials for guidance, support and training.
Visibility of other support offered

– Cargo transportation into Ukraine, donations from a global brand have been made available to neighbouring countries and UNICEF are actively seeking to work with youth in neighbouring countries. 
Educational Resources

–

Educational

Resources/Toolkits are being developed and adapted by MOs/NSOs, as well as WAGGGS and WOSM, to be shared centrally (links below) . 

 
_____________________________________________________________________________________________
Recent news
_____________________________________________________________________________________________
How can you contribute?
Funding 
Thanks to the generosity of more than 1,100 donors from across the Scout Movement in partnership with the World Scout Foundation, we have reached the initial target of raising USD 100,000 to support humanitarian relief efforts in Ukraine. These funds will be directed to the National Organization of the Scouts of Ukraine to provide food, medicine, sleeping bags, and other necessary supplies, along with the coordination of psychological support for young people and communities impacted by the conflict.

WOSM has widened the scope of the effort to direct additional funds towards neighboring National Scout Organizations in the region who have stepped forward to offer their support to the affected population. The Scout Donation Platform campaign has been increased to USD 250,000. Based on this, all future donations or applications for funding will be managed through the Scout Donation Platform, as above using the same mechanism:
• Prepare an outline of your intervention, describing in two paragraphs what activities you are planning to implement.
• Include in the end of the document the estimated breakdown of the budget
• Share the proposal with the Regional Director, Abir Koubaa (akoubaa@scout.org) and the Manager, Grant-Making Processes, Tilemachos Boni (tilemachos.boni@scout.org).
Those who wish to make large donations, we can facilitate this directly through the World Scout Foundation. Please reach out to sian.bagshaw@scout.org for assistance. 
The European Scout Foundation is offering financial support, ​​focusing on small-scale, local projects, to respond to and assist countries in the necessary support during this time.
Kandersteg International Scout Centre has decided to open its doors to Scouts and Guides displaced by the ongoing war in Ukraine. Refugees fleeing from the country are now welcomed at KISC where they are provided with accommodation and meals.

___________________________________________________
WAGGGS has launched an emergency appeal,  for funds to support its Member Organizations involved in providing humanitarian aid and support in response to this emergency. This fund will be directed to response activities of Member Organisations. You can make your donations here: https://iwd.wagggs.org/p/emergencyappeal/
Those who wish to be considered for this funding, should fill in the simple form that can be found here: https://drive.google.com/drive/folders/1XcTiZimIU2dokgfOvCypqdG2NCPaZxYN?usp=sharing  
You can address any questions to this dedicated email: (crisissupport.europe@wagggs.org)
____________________________________________________________________
Support & Supplies – ongoing offers from volunteers across the region
Supplies – mobilizing delivery of humanitarian help from global warehouses to Ukraine. Focus is now on delivering aid to help Ukraine to volunteer organizations.
In order to send humanitarian aid to Ukraine for free, one has to send or bring things on their own to one of our foreign warehouses without specifying a recipient's name. And then we'll take care of delivery and send it to organizations. 
The list of the warehouse addresses is below: https://novaposhta.ua/news/rubric/2/id/10169
Volunteers
There are eager volunteers and NSOs ready to support actions across the region and even on the ground, but for now, we are best to mobilize locally before encouraging people to travel across borders to serve at this moment.

Our WOSM Humanitarian Action consultants are ready to help you prepare an action plan for this level of support or intervention should it be required in the future. 
Partners
Through the WOSM partnerships team, we have been able to make local level connections with operational partners on the ground in Poland, as well as initiate these connections in other neighboring countries.

The aim is to increase the efficiency of the relief response, while ensuring effective distribution of the donations and supplies many of our member organizations have access to. The partnership will also facilitate the future mechanisms and long term action planning for NSO support.
Current needs of MO's

Through the Regional Coordination points, we collate the current ask and needs of the neighboring countries.
• Call for Volunteers The Organization of Bulgarian Scouts is looking for European Solidarity Corps volunteers recruitment (Bulgaria) – information can be found here
• Collection of incoming materials, activities and resources to facilitate conversations with your membership about war, welcoming newcomers and refugee response. 
Many NSOs are seeking resources, tools and programme- please continue to contribute to these resources 

Gathered materials

can be found here or in the WAGGGS

 

google drive

.

We endeavor to mobilize translation resources to spread these across the movement in English and local languages where required (as above).
• Are you a translator?
We are looking for support in a few areas of translation. 

Programme from English into other languages (specifically into Romanian, Polish, Slovak, Latvian, Lithuanian, Russian, Czech) 
• Experts on mental health
Mental health and wellbeing of all those affected by the ongoing situation in Ukraine and of the volunteers delivering and coordinating relief efforts is of high priority and we want to ensure the most suitable on the ground and NSO wide support is available.

Do you know of any services, apps, country specific support or volunteers who could help in each of the neighboring countries? Please reach out directly to the contacts below so we can coordinate the response.

Do you have any wellbeing and mental health actions for Scout Leaders in a crisis?
_____________________________________________________________________________________________
Useful Resources 
• Humanitarian standards are Scout values – Scouting's values and the Scout Method go hand in hand with universal humanitarian principles. Our response through awareness, skills for life, and improving opportunities for non-formal education, is essential. This visual one-pager presents the humanitarian standards linked to Scouting.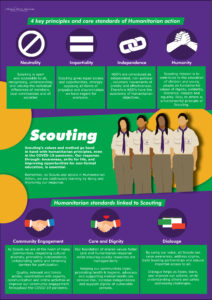 • Is Dialogue appropriate? A useful animation to understand dialogue and in what context. 
• Joint Working Group for Refugees have prepared a variety of best practise
• WOSM services has a wealth of materials to support organizations in Humanitarian Action and Peace education. Further support of consultants can be requested through the platform.
• World Thinking Day 2021 Activity Pack: 'Stand Together for Peace' : This pack includes peacebuilding activities & ways that you can advocate for peace 
• WAGGGS Surf Smart 2.0 (cyber safety and wellbeing) programme. The programme includes activities also on how to educate young people on fake news something that is very much needed, especially in crisis situations 
• Listening Ears services are available and can be requested for any national volunteers. Please reach out directly to seek further support. (Listening Ears email for the European Scout Region le.europe@scout.org)
_____________________________________________________________________________________________
Coordination Contacts
• WOSM- sian.bagshaw@scout.org 
• WAGGGS- crisissupport.europe@wagggs.org