The world is constantly changing, new challenges arise, and the European Scout Region aims to provide young people with relevant knowledge, skills and attitudes so they can become responsible citizens and actively contribute to the community around them.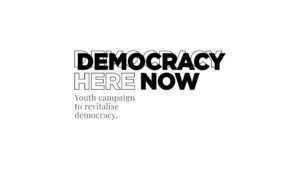 In order to empower young people to speak out, educate and take action, a new project called the Power of Human Rights Eduction (HRE) has been launched in the framework of the youth campaign Democracy Here|Democracy Now.
The project took place in Kandersteg, Switzerland, from 18 to 22 May 2022, involving 21 participants from 16 different countries across Europe with the aim to increase awareness and access to rights, through non-formal education and inclusive active citizenship. 
As part of a long-term approach that aims to bring HRE within the activities of National Scout Organisations across Europe, enabling volunteers to increase their competences and internally bring new perspectives to their diversity and inclusion approach.
Through non-formal education methodologies, participants have learnt from external trainers, education materials, role-playing and engaged in structured dialogue. The programme offered a space for sharing existing best practices and concrete successes of Scouting for democratic participation and promotion of human rights as well as engaging with partners such as the Office of the United Nations High Commissioner for Human Rights and the NGO Working Group on Human Rights Education and Learning. 
Ensuring meaningful youth participation and access to rights are the fundamentals of our modern democracies, and Scouting has a key role to play.  
Listen to the testimonies of Olha, Mia, Petros and Agustín, to find out more: 
The project was implemented in the framework of the Youth Campaign #democracyherenow of Council of Europe and supported by the European Youth Foundation.